Tales by Trees is a net positive company.
A fairly straightforward way of explaining what this means is by looking at the following three purchasing options available to you:
You buy a normal product. Natural resources are reduced.
You buy nothing. Natural resources stay the same.
You buy a net positive product. Natural resources increase.
Being net positive, Tales by Trees products are designed to more than offset the material use, energy consumption and emissions caused by their production. In other words, we increase natural resources with every product sold.
To be able to do this, we work with scientists, artists, designers and organisations around the world. We use sustainable, renewable materials like certified Nordic wood, calculate our products' full environmental impact (including production and transportations), minimise consumption and emissions wherever possible, and give back so much that the end result is scientifically and demonstrably positive.
Why Net Positive
As mentioned above, almost every product that you buy decreases natural resources. Even products that you typically consider green or sustainable actually decrease global resources and increase pollution. This is because when people talk about sustainability, they usually only think about material use. But the life cycle of a product has far more aspects to it: the resource use and emissions generated by the production, packaging and transportation of a product are often a totally overlooked strain on the environment and a major part of any product's ecological footprint.
While it might sound normal that a product consumes resources and puts nothing back, because of our current rate of consumption, it is actually quite bad. And that's something of an understatement. At the moment, global consumption is almost twice what our planet can provide each year. This overconsumption is what drives climate change and biodiversity loss around the planet.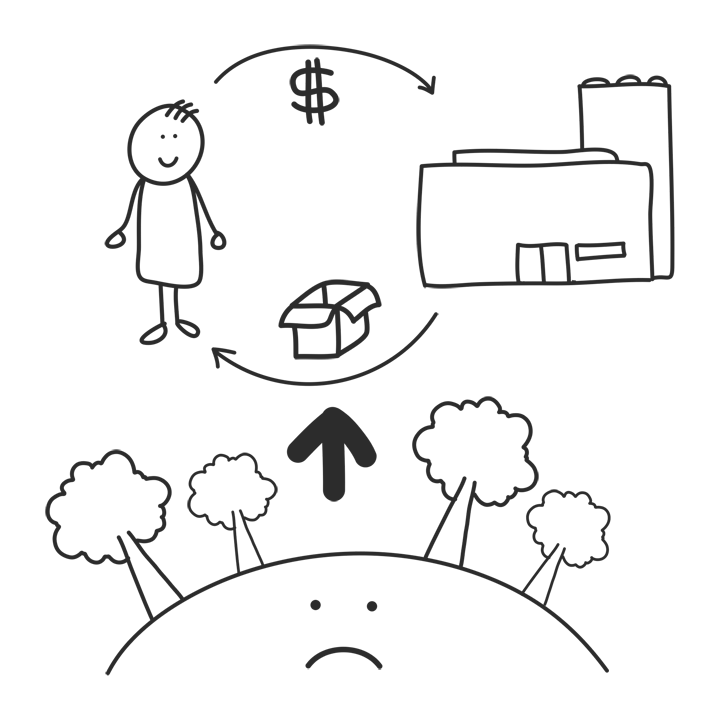 Because of this, we wanted to go far beyond sustainability and see if we could take into account everything that goes into the making, packaging and delivering our products, from the obvious things like materials to the smallest details like the little pockets for printed shipping labels that need to be included in every shipment. We wanted to see if we could make products that actually increase natural resources when everything is considered.
Using our net positive model, it is possible.
Our Net Positive Model
At the very centre of what we do is our net positive model that allows us to put back into nature more than we consume. It follows the principle of net positivity which has been developed by the Net Positive Project, a collaboration between Forum for the Future, WWF, the Climate Group and other organisations.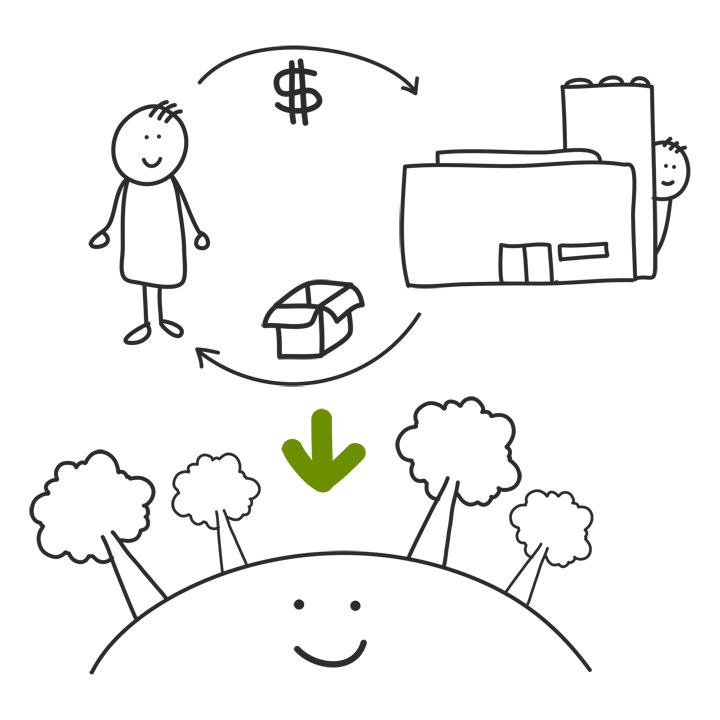 Our net positive model is the result of countless tests, designs and detailed calculations that we have done over the past years, and it will continue to evolve as we learn more, work on new products, and constantly seek better ways of doing things. We will never stop trying to improve it and striving to maximise our positive impact.
We calculate our products' full environmental impact, minimise consumption and emissions wherever possible, and give back so much that the end result is scientifically and demonstrably positive. We use sources that are certified as sustainable. Of our first products, the Seed is made of PEFC certified wood, while the books are printed on FSC certified paper. Both are packaged in cardboard boxes with FSC certified recycled materials and delivered with carbon neutral home delivery.
From the link below, you can find a full report of our model. We want to be transparent about our model and warmly welcome any comments or suggestions that you may have.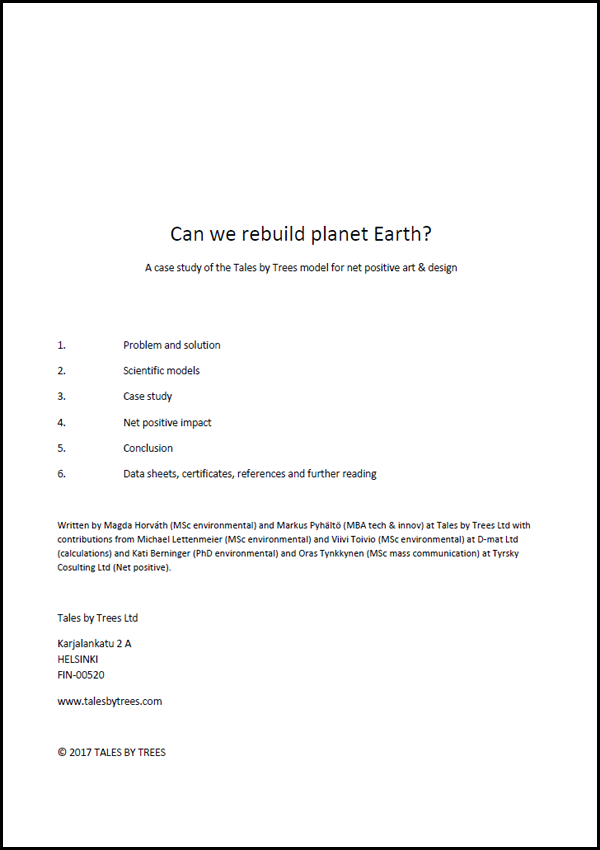 By using our net positive model, every Tales by Trees product is designed to rebuild the planet, piece by piece.
Tree Planting & Forest Conservation
As our primary material is sustainable Nordic wood and our emissions mainly carbon dioxide related, it is possible for us to carry most of our offsetting and positive impact through tree planting and forest conservation.
We plant trees in collaboration with Trees for the Future, an American non-profit organization founded in 1989 with a mission to protect the environment and empower rural communities through organised tree planting. The organization has planted over 100 million trees and in doing so helped over a million people in dozens of countries around the world. Their current focus is on implementing Forest Garden Programs in Sub-Saharan Africa, where each new Forest Garden helps local families to transition towards increasingly sustainable farming techniques and economic independence.
While we are a Finnish company, the reason we have chosen to focus our planting efforts in Africa is that tropical trees grow faster and annually sequester far more CO2 from the atmosphere than Nordic trees do. As a result, tropical trees have a much bigger and faster impact on combating climate change than their Nordic counterparts. Meanwhile, Finland already enjoys more than 70% forest coverage, and other Nordic countries are not far behind. Forests in the Nordics are also carefully maintained and currently used below their sustainable capacity. It therefore makes sense to focus our reforestation efforts on countries where forest coverage is much smaller and where the forests are currently far less sustainable. And in the end, we of course do indirectly plant trees also in the Nordic Countries. Since we only use materials from sustainably managed forests, each tree felled is guaranteed to be replaced by a new one.
In our forest conservation program, we work together with the Finnish Natural Heritage Foundation, a non-profit organization based in Finland. Established in 1995, they protect old growth forests with a focus on uncut forests that display a high degree of biodiversity. These forests represent numerous species of plants in different life stages from saplings to full-grown trees and decaying ones, while also providing important habitats for animals. The Finnish Natural Heritage Foundation currently manages over 70 separate sites, which together total over 1500 hectares of protected forest.
The reason why we have chosen our home country Finland as our first conservation target has to do not only with logistics, but also with the types of forests that grow here. As mentioned earlier, Finland has plenty of trees and forests, but most of those forests are actually managed for use, and the number of protected wild forests could and should be higher. By protecting forests, we can increase local biodiversity and provide sanctuaries for animal species, resulting in a healthier planet.
We are proud to have Trees for the Future and the Finnish Natural Heritage Foundation as our partners for a net positive impact. In the future, as we introduce more net positive art & design, we also aim to diversify our positive impact to cover more methods and regions around the world.
Product Delivery
We are an e-commerce company, which means that once sold, finished products are delivered directly to our customers, with the only intermediary being the company that does the delivery. This way, we can provide a high quality, personalised customer experience, while also also controlling the emissions generated by the shipping process.
Our delivery partner is DHL, a global logistics company with a strong commitment to green values. We specifically use DHL's GoGreen service that provides carbon neutral shipping worldwide. They do this by minimising their environmental impact with methods like optimized transport routes, alternative drive vehicles and energy-efficient warehouses, and then compensate for all unavoidable emissions, resulting in carbon neutral delivery.
This way, wherever in the world you are, you can receive your Tales by Trees products knowing that the shipping has not increased CO2 in the atmosphere.
Our customers rebuild the planet piece by piece.